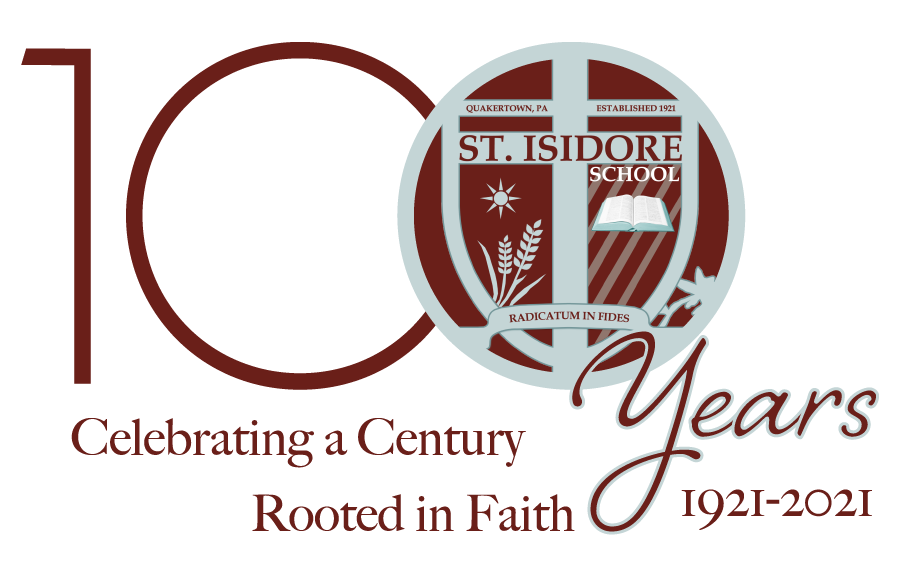 100th ANNIVERSARY OF OUR SCHOOL. St. Isidore was established in 1921 and the first class graduated in 1923. Starting in August 2021, we will be celebrating our 100th Anniversary. The Centennial Celebration Committee has planned for many exciting events starting Opening Mass, Alumni Day, Food Truck Festival, and Liturgical Finish. Along with a school & Parish-wide picnic along with Centennial Celebration apparel and momentous. More to come!
Sunday, January 30 – Saturday, February 5, 2022
Coin Drive
Catholic Schools Week

Saturday, April 23, 2022
6:00 – 9:00 pm Food Truck Festival

Sunday, June 5, 2022
11:00 am Closing Mass
1:00 – 4:00 pm Alumni & Friends All Year Reunion
Special thank to the Centennial Celebration Committee for all your hard work since 2019;
Vicki (Burke) Rogers, Fr. Ken Brabazon, Dr. Robin Conboy (Chair), Mary Finnegan,  Jacque Flynn (Chair), Lisa Geib, Cheryl Hopkins, Jim Hopkins, Lesley Hopkins, Jill Maye, Nicole Maye, Megan McClaskey, Julie McFadden, Kate McSherry, Kathy O'Donnell, Pat O'Donnell, Wendy Sergi, Sue Wasilewski.
Contact Us via Email: 100th@stisidoreschool.com