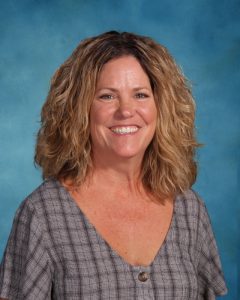 Mrs. Belinda Offner
Second Grade
Education
Graduated from Holy Family College with my Bachelors in Special/Elementary Education.  Continued furthering my career through graduate studies in School Counseling and Psychology but changed my certification studies to Reading Specialist certification.  Received training and completed courses in the Student Assistant Program.
Experience
I have taught for five years in Tennessee in a Comprehensive Developmental Classroom. Previous to accepting that job, I home schooled a child in the same district.  I taught one year in a pilot study resource room in Central Bucks.  I have been at St. Isidore school since 1995; taught the four-year-old program at Saint Isidore school for 3 years and then moved to Second Grade.
What do you like about teaching?
What I like about teaching is working with and helping multiple children learn necessary skills both academically and socially.  I love to see the excitement in their faces when they realize they understand a difficult concept.  I love teaching them about God and Religion and when I hear the kids ask questions about their faith and delve into the Catholic Religion, it often brings tears to my eyes.  I also love seeing them play with one another and watching them try to problem solve socially (although I may have to intervene sometimes) when they have disagreements.  I love the hugs I get out of no where and the signs of affection they can bestow upon me with little notes or looks of appraisal.  I mostly love watching how much they grow and mature in one year and I get a feeling of accomplishment when they leave me for third grade. Also, I love the fact that I get to act silly, sing and dance, and have fun while I am teaching.
Tell us about your Hobbies & Interests
I love to spend my summers down the shore with my family.  I love reading, scrap-booking and animals.  I like to try cooking and baking but I am not very good at it.  I also play many word games on my phone and tablet.