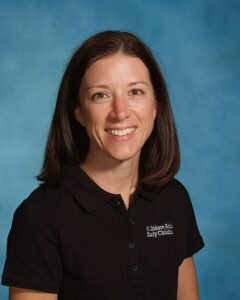 Mrs. Lisa O'Mara
Physical Education Teacher
Education
Bachelor's Degree in Elementary, Special, & Early Childhood Education, Gwynedd Mercy College
Experience
I began my teaching career in 2013 at Our Lady of Mt. Carmel in Doylestown where I taught 1st grade, 3rd grade and Pre-K. I took a few years off to be home with my kids. I'm excited to begin my journey again at St. Isidore!
What do you like about teaching?
I love engaging and interacting with young kids. I also love getting them excited about learning, helping them find their strengths, and guiding them along the path of learning.
Tell us about your Hobbies & Interests
My favorite thing to do is spend time with my husband, 3 kids, and extended family. I enjoy baking, reading, a strong cup of coffee and hot fudge sundaes! My family and I are active members of the Parish, so if you see me, be sure to give a wave!