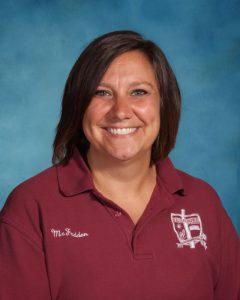 Mrs. Julie McFadden
Pre-Kindergarten
Education
B.S. Childhood Development and Family Relations, Indiana University of PA and Early Childhood Education Associates, Bucks County Community College
Experience
Started my teaching career in 1993 and at St. Isidore School since 1999.
What do you like about teaching?
I knew from a very young age that I loved spending time helping children; I love the feeling when I see one of my children smile because they finally understand something they are learning or have been working so hard to get.  I love the hugs I get in the mornings and when leaving at the end of the day.  I love watching them grow into amazing little people and helping to give them that love, desire and drive to become whatever they think they want to be.  I love that what I do at school helps them to become the adult they will be one day.
Tell us about your Hobbies & Interests
I enjoy vacationing at the Jersey Shore with my family and friends.  I go to concerts with my daughter, I like to watch movies, being crafty, walking, being on the beach, coloring, listening to music, and hanging with my family & friends.