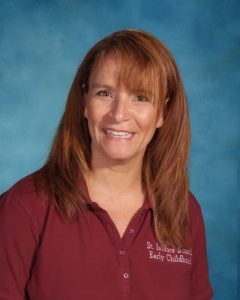 Mrs. Melissa Bowen
Early Childhood Teacher
Education
BS Elem. Ed., Penn State University
MS TESOL (Teaching English to Students of Other Languages), University of Pennsylvania
Principal Certificate, Cheyney University
Experience
I have been teaching since 1993, started at St. Isidore School in 2000.
What do you like about teaching?
I honestly believe I was meant to be a teacher, I can't imagine doing anything else. I am blessed that I get to be a small part of helping students grow in knowledge, confidence, and skills each year. Teaching is challenging and rewarding at the same time and with each new group of students I am entrusted with, I get to experience the world all over again from their eyes.
Tell us about your Hobbies & Interests.
As a parent of three, my favorite thing is to cheer on and watch my children in their various sports. I can often be found cheering on my boys at their football or baseball games or at my daughter's gymnastics meets.  On the rare occasion I have free time, I love to read and will read almost anything.